About this story
This is an archive news story from TISPOL.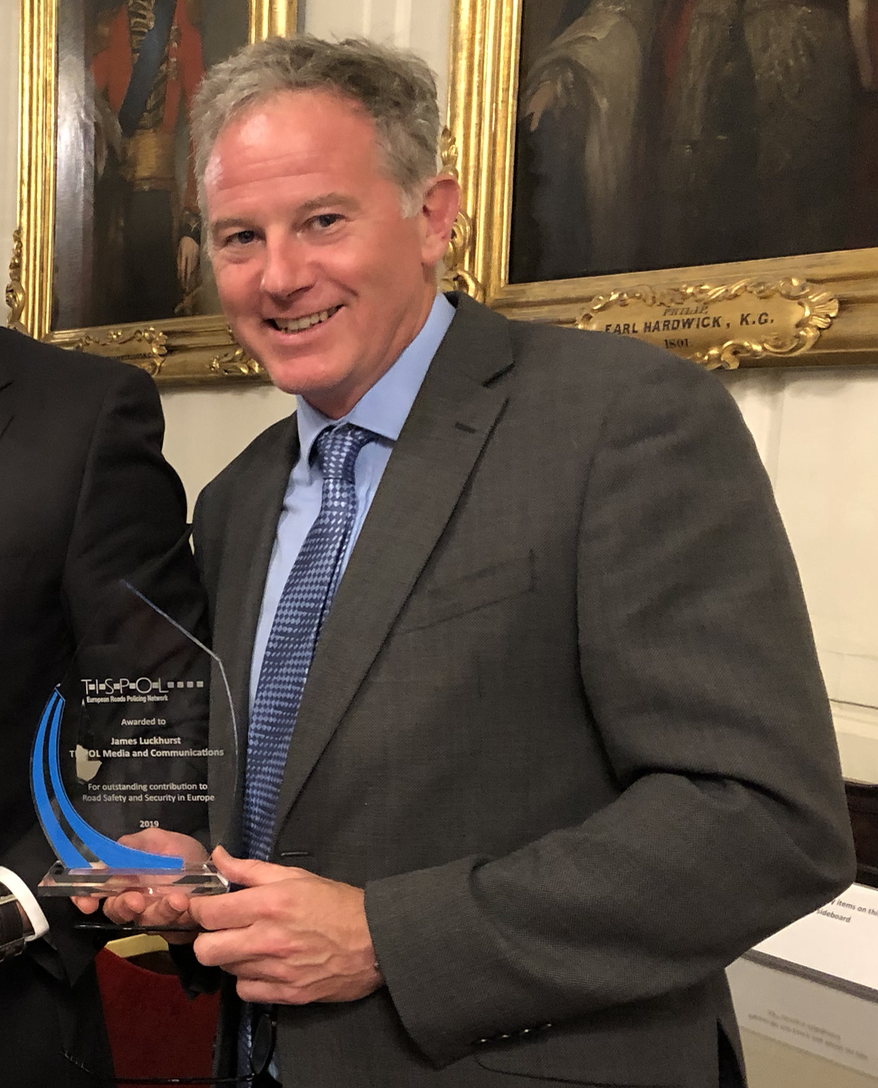 James Luckhurst, TISPOL Media and Communications adviser, received a President's Award in Dublin on 26 September, for his 'outstanding contribution to road safety across Europe'.
CITATION
Our final nominee and by no means least has worked extensively for TISPOL over the past decade. Their commitment to TISPOL and Project Edward ensured that TISPOL was the worthy recipient of a Prince Michael International Road Safety Award in December 2018.
Again, they have shown an unrivalled enthusiasm in promoting the work of TISPOL, including the publicity of initiatives, providing advice and support to events, fostering media and partner relations to mention but a few.
As if Project Edward wasn't enough work, this nominee has also managed a successful and comprehensive fortnightly bulletin of information for a diverse international audience. He is also the main media contact for TISPOL and contributes extensively to a broad range of media.
Ladies and Gentlemen, as you may be aware, the concept behind Project EDWARD was formulated while out jogging in the Welsh Countryside in early 2016 and James Luckhurst also manages to find the time to volunteer as a Special Constable serving Dyfed Powys Roads Policing Unit in Wales.
The success of Project Edward is testament to James's dedication, evident from the live Road Trips completed as part of Project Edward in 2018 involving delivering the message of road safety commitment from Dublin to Madrid. The event took in locations including here at Dublin Castle, the UK Houses of Parliament, a Motorway Toll Plaza, the Michelin research and development facilities in France. Remarkably, he even managed to find time to attend some of the events on the Road Trip to liaise with partners and carry out filming.
Project EDWARD has gained significant support amongst key stakeholders, including the European Commission, Road Victims Groups and is set to greatly expand due to James's enthusiasm and engagement.
Finally, I would now like you to be upstanding in your appreciation, whilst I call on James Luckhurst to come forward to receive the TISPOL Presidents Award from TISPOL President, Volker Orben for his outstanding contribution to road safety across Europe over the past decade.